82 Metre from Abeking and Rasmussen
Published: Friday, 01 February 2013
Mike Fulton
Speculation and secrecy surrounds the new superyacht from Abeking and Rasmussen
At 82.3 metres, the boat's size has led to much speculation about the its full specifications and appearance but few details have thus far been disclosed.
Along with an expected delivery date of May 2013 from the Abeking & Rasmussen shipyard in Lemwerder, Germany, a rendering of the yacht has also been released, revealing the its aluminium superstructure and steel hull. It is also known that the yacht's interior has been designed by Jim Harris and its exterior styling was done by Sam Sorgiovanni Designs.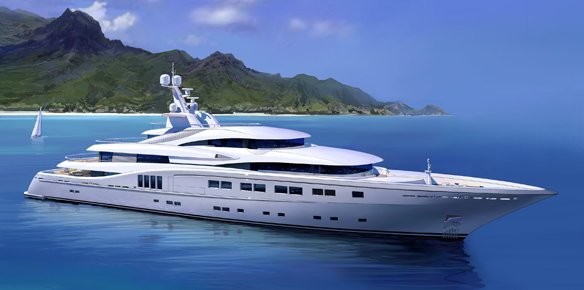 This rendering of the new craft gives some idea of what this beauty might look like
With construction of the vessel on-going, speculation is likely to continue until it actually hits the water.